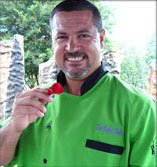 Gorizia Rosemary Bacon Jam
2 lb. Bacon, Thick sliced and chopped
5 tbsp Gorizia Rosemary, chopped
4 Sweet Onion, chopped
2 Shallot, chopped
1.5 cup Maple Syrup
1.5 cup Sorghum
4 tbsp. Dijon Mustard
1.5 cup Balsamic Vinegar
4 tsp Worcestershire Sauce
2 tsp Crushed Pepper Flakes
1 tsp Cardamom
1 cup Coffee, black and strong
In large pot, brown bacon until crispy.
Add Rosemary, Onion, Shallots, and pepper flakes and cook until softened.
Add rest of ingredients and bring to a boil, reduce heat and cook uncovered for about an hour or until desired consistency.
Season jam with salt and pepper to taste.
Gorizia Rosemary Grapefruit Sparkling Cocktail
2 sprigs Gorizia Rosemary, separate
1 1/2 oz Grapefruit Juice
4 oz Sparkling wine or Champagne
In a cocktail shaker, combine 1 cup ice, sprig rosemary, and grapefruit juice. Shake well and pour into tall glass filled with ice. Pour the sparkling wine into glass and stir.
Garnish with other sprig rosemary.