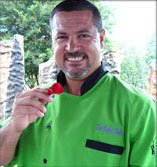 Rosemary Garlic Rubbed Beef
3½ lb. Top Sirloin Roast
8 Cloves Garlic, minced
2 tbsp Rosemary, chopped
4 tsp Kosher Salt
1 tbsp Black Pepper
Combine last four ingredients and rub onto both sides of roast. Wrap tightly in plastic wrap for 18-24 hours. Remove from refrigerator about 1 hour before cooking. Preheat oven to 450 degrees. Place roast onto foil lined baking sheet. Place into oven for 10 minutes to develop a nice crust. Remove and place meat into perforated foil pan and reduce heat to 325. Place roast back in oven and roast for 1 hour turning once during cooking time. Cook until thermometer registers 125 in center of roast. Remove and tent with foil. Let rest for 20 minutes. Slice and serve warm.
Garlic Confit
1 cup Olive Oil
24 Garlic cloves, peeled
Heat the oil in small saucepan over medium low heat. Add garlic to the pan and cook over very low heat until soft being careful not to brown the garlic. This process could take up to 1 hour. This can be done up to 1 month in advance. Keep cold and garlic submerged in oil.