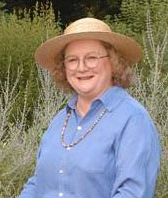 By Ann McCormick
Here in Texas we are surrounded by wide-open spaces filled with native herbs, whose fragrance, beauty, and utility make them worthy of cultivation. Let me introduce you to a few that might be welcome in your garden.
Mexican Mint Marigold
Mexican mint marigold (Tagetes lucida) is a hardy perennial that works well in ornamental gardens. Because the leaves are used a substitute for French tarragon I often call it "Texas tarragon." Its stems reach 2-3 feet and are topped in late fall with tight clusters of bright yellow marigold-like flowers. Plant in well-drained soil with full sun to part shade. Prune back in late fall after the blooms fade. Propagate in spring by division or seed.
Mexican Oregano
If you have room for just one native herb, then Mexican oregano (Poliomintha longiflora) is your best choice. This graceful perennial blooms from late summer through fall with tubular white, pink, and lavender flowers. The leaves can be used as a spicy substitute for garden oregano. Mexican oregano likes full sun but will also grow in partial shade, reaching two to three feet.
Papaloquelite
The oval leaves of papaloquelite (Porophyllum ruderale) are used in traditional Mexican cooking in the same manner as cilantro. One author describes the flavor of this annual herb as "sort of like gazpacho in a leaf, sans tomatoes." But not everyone has this high opinion of its flavor. The Spanish name for papaloquelite is "mampuritu," a corruption of the word for "skunk." Sow papaloquelite seeds in a location with good drainage and full sun after danger of frost has passed. Because it can reach six feet, plant this annual herb in the back of the garden. It produces purple to bronze starburst flowers late in the growing season.
Epazote
No discussion of Texas herbs would be complete without epazote (Chenopodium ambrosioides). It has been used in folk medicine to expel worms and parasites, but it's better known today as a seasoning in Mexican cooking with dried beans, corn, or fish. Epazote behaves like a perennial or annual, depending on winter temperatures. It's disparaged as a weed over much of the South, springing up at the drop of a seed. Because of this invasive habit, plant it separately, where it will have lots of sun and open space.