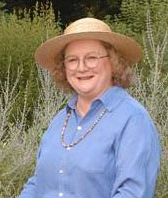 By Ann McCormick
When I was a child, family vacations always revolved around Dad's trout fishing. I wasn't crazy about fishing, but I had fun poking around the stream's edge with a rod and my share of bait. Nowadays, I don't have to grab a pole and a net to get fresh fish for dinner. A trip to the grocer's is all the adventure I need for that. And with a bit of help from my herb garden, I can transform my supermarket catch into a great meal.
It's a snap to season the mild flavor of fish with fresh herbs. For whole fish, just clip a selection of herbs, stuff them in the body cavity, and add a squeeze of lemon or lime juice. Some good herbs for fish are dill, fennel, parsley, marjoram, or cilantro. Use kitchen twine or the pins from your poultry stuffing kit to keep the cavity closed while it's baking.
If you're barbecuing fish, can stuff the cavity with slices of lemon grass and ginger. . Baste with soy sauce inside and out for a robust flavor. Wrapping it with lemon grass leaves holds the fish together and imparts a mild lemony taste.
Fish fillets can be seasoned with your own blend of pesto sauce and rolled into pinwheels. Create your pesto by mixing the following ingredients in a blender or food processor until smooth.
2 cloves of garlic, mashed
2 cups fresh basil leaves (any variety)
_ cup chopped pine nuts or walnuts
_ cup olive oil
1 tablespoon lemon juice
_ cup grated Parmesan or Romano cheese
Preheat the oven to 350 degrees. Clean and dry the fillets. Set aside one third of your pesto and spread the remainder on the flat sides of the fillets. Roll them up, pesto side in, and secure with a toothpick or skewer. Place in a 9×9-inch baking dish. Pour in _ cup of white wine or chicken stock and cover the dish with foil. Bake for 20-25 minutes or until the fish pinwheels flake easily in the center. To serve, top each portion with the reserved pesto. Sprinkle with more cheese, if desired.
With so many varieties of fish available at the grocer's, it's easy to include heart-healthy fish in your diet. Whether caught at the store or on a fishing trip, I guarantee that seasoning with herbs will make your catch of the day tasty.