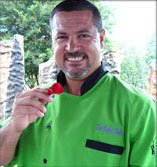 Rosemary mule
2 oz. Ginger beer
2 oz. Vodka
½ oz. Rosemary simple syrup
½ oz. Cranberry juice
Cranberries, frozen
Rosemary sprigs
Rosemary Syrup:

8 oz. Water
8 oz. Sugar
2 Rosemary sprigs
Combine all ingredients into small saucepan and bring to a boil. Remove from heat and let steep for about 15 minutes. Strain and transfer to covered container and chill. Syrup will hold two weeks in refrigerator.
Drink:
Combine all ingredients in shaker half filled with ice. Shake drink 5 seconds and pour over ice and garnish with frozen cranberries and sprig of rosemary.
Party Meatballs with Rosemary and Cranberry Wine Sauce
Meatball Ingredients:
1 lb. Ground Beef, lean
1 lb. Ground Pork
1½ cups Bread crumbs
½ cup Onion, chopped
4 cloves Garlic, minced
1 tsp. Rosemary, finely chopped
2 Eggs, beaten slightly
1 tbsp. Worcestershire Sauce
1½ tbsp Salt
¼ tsp Pepper
Sauce Ingredients:
16 oz. can Whole Cranberry Sauce
1 cup. Brown Sugar, packed
2 tbsp. Rosemary, chopped
1 cup Red Wine
2 tsp. Hot Mustard, Chinese
Combine all ingredients for meatballs in a large bowl. Work the mixture until combined without overworking the meatball mix. Portion mixture into 1 inch balls and bake at 375 degrees for about 20 minutes or until cooked through. Remove and place meatballs into crock-pot and finish cooking remaining meatballs. As the meatballs are cooking, combine the ingredients in a small sauce pan and bring to a simmer and let cook for about 5 minutes. Remove sauce from heat and pour over cooked meatballs. Turn the crock-pot to low heat and heat until ready to serve. Serve the meatballs warm.