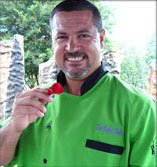 Cream of Mushroom Soup with Creeping Thyme
2 tbsp Butter
4 oz Onion, chopped
2 oz Celery
2 oz Leek
1 lb. Mushroom Stems, chopped
1 tbsp Garlic, minced
16 oz Chicken Stock
4 oz Roux (2oz Oil and 2 oz Flour)
2 tsp Creeping Thyme
1 quart Chicken Stock
16 oz Heavy Cream
8 oz Mushrooms, chopped for garnish
Sweat onion, celery, leek, mushrooms, and garlic in butter until for about 5 minutes over medium heat. Add 16 oz stock and cook vegetables until tender. When cooked, remove from heat and puree in blender. In soup pot, cook roux until pale and add thyme and 16 oz stock and whisk until smooth. Add pureed vegetables to pot and heat for about 10 minutes then add the cream. Heat until simmer and strain then add chopped mushrooms and season soup.
Roasted Olives with Lemon and Creeping Thyme
3 cups Assorted Olives
2 Tbsp Creeping Thyme
2 tbsp Lemon Juice
¼ cup extra virgin Olive Oil
¼ tsp crushed red pepper flakes
1 tsp salt
Preheat oven to 400 degrees. Combine all ingredients in a bowl and pour onto rimmed sheet tray. Bake in oven for 10 to 12 minutes. Remove from oven and let cool to room temp.