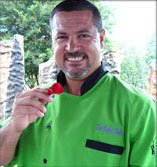 1 Tomato and Aussie Basil Soup
1 Shallot
4 Roma Tomatoes; peeled and seeded and chopped
4 cups V-8 Tomato Juice
1 Tbsp Sugar
16 leaves Aussie Basil
1 cup Heavy Cream
4 oz Butter
Salt and Pepper
Saute Shallot and in Olive oil over medium heat until shallot is translucent. Add tomatoes, juice and sugar and simmer for 30 minutes. Puree soup in blender with 16 basil leaves and return to pot. Bring back to a simmer and add cream and butter. Season with salt and pepper. Garnish with 4 basil leaves cut into chiffonade.
Aussie Basil Pasta
1 cup Aussie Basil Leaves
1 1/2 cups All purpose flour
1 large egg
2 tsp Extra Virgin Olive Oil
2 Tbsp Water
3 Tbsp Flour
In a food processor, pulse the basil until very fine. Add 1 1/2 cups flour and pulse until combined. Add egg and oil pulsing machine until combined. Slowly add water until it forms a ball, you may not use all of the water. Remove dough and wrap with plastic wrap and refrigerate for at least 2 hours. Remove from refrigerator and cut into six equal portions. Sprinkle each dough ball with flour and run through pasta machine or roll out very thin by hand. Dry pasta for 30 minutes before cooking for 3 to 5 minutes in boiling salted water. Time is dependent on thickness of pasta. Serve warm or cold.