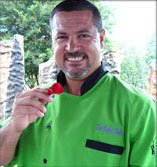 1 cup Cilantro, chopped
3 Jalapeno Chile peppers, seeded and chopped
1 each Lime, zest and juice
1 cup Mayonnaise
1 cup Heavy Cream
1 tsp Paprika
Salt and Pepper to taste
Combine all ingredients into food processor or blender and process until smooth. Adjust seasoning with Salt, Pepper and lime juice.
Tortilla Soup with Chicken and Cilantro
2 oz Vegetable Oil
2 Corn Tortillas, cut into strips
2 Garlic cloves, chopped
1 Tbsp Cumin
2 Tbsp Cilantro, chopped
_ Red Onion, cut into strips
1 Bell Pepper, cut into strips (I prefer red or yellow. They are sweeter)
1 Jalapeno, seeded and chopped (More if you like it hotter and leave in seeds)
2 Chicken breasts, cut into _ in. cubes
14 oz can Crushed Tomatoes
16 oz Chicken Stock or Broth
1 small can Whole Kernel Corn, drained
juice of 1 Lemon
Salt and Pepper to taste
_ cup Cilantro, chopped
Fry corn tortillas in oil until crispy and reserve them for garnish. Saute garlic, seasonings, onion and peppers. Add the chicken when the vegetables have softened and are aromatic about 4 minutes. Add tomatoes, stock, corn and lemon juice and cook over medium heat for about 45 minutes. Season with salt and pepper and add fresh cilantro. Garnish with reserved tortilla strips, cheese and sour cream.