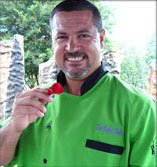 Citrus Snapper with Chives
2 tbsp Butter, unsalted
1 tsp Sugar
1 tbsp Shallot
½ tsp Lemon peel, grated
½ tsp Lime Peel, grated
1 tbsp Chives, minced
1 tbsp Lemon juice
1 tbsp Lime juice
4 Filets Snapper
In large sauté pan, heat the butter over medium heat until melted then add the shallot and sugar. Cook for about 30 seconds. Add the rest of the ingredients except the fish and bring to a simmer. Add fish, cover the pan and cook for about 3 minutes. Flip the fish and continue cooking for another 3 minutes or until fish is easily flaked apart. Remove from pan and serve with pan sauce. Season the sauce with salt and pepper.
Browned Butter Green Chive and Cheddar Grits
4 tbsp Butter
2 tbsp Chives, minced
2 cups Milk
2 cups Water
1 ½ tsp Salt
1 cup Quick Grits, not instant
4 oz Cheddar Cheese, shredded
½ tsp Black Pepper
In a large sauce pot, heat butter over medium heat until browned slightly then add the chives and cook for about 1 minute making sure not to overcook butter. Turn heat to high and add the milk, water, and salt. Bring to a boil then slowly stir in grits to pot using whisk to stir. Reduce heat to low and cover the grits. Stir the grits every 3 to 4 minutes for 20 to 25 minutes or until creamy. Uncover and slowly add cheese and black pepper. Serve warm.