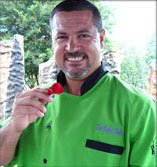 1 bunch Parsley
8 cloves Garlic
3 Tbsp Onion, minced
5 Tbsp, White Vinegar
5 Tbsp, Water
1 tsp Salt
1 tsp Oregano
1 tsp Crushed Red Pepper
_ tsp Black Pepper
1 cup Olive Oil
Put all ingredients except Olive oil into food processor and pulse until roughly chopped. Slowly add oil to the sauce making sure not to process too finely. Sauce should be coarse. Use as a sauce over grilled meats or dipping sauce for vegetables.
Parsley and White Wine steamed Mussels
50 Mussels, cleaned
2 Tbsp Extra Virgin Olive Oil
6 Garlic cloves, minced
1 tsp Red Pepper flakes
1 Shallot, minced
3 Roma tomatoes, seeded and diced
12 oz White Wine
1 bunch Parsley, chopped
2 Tbsp Butter, softened
Salt and Pepper to taste
Saute garlic in olive oil for 1 minute until softened and then add pepper flakes and shallot. Continue saute for additional minute.
Add tomatoes and cook for 2 minutes. Next, add wine, half of the parsley, and butter and cook with lid on for about 12 to 15 minutes or until sauce is reduced by half. Season sauce with salt and pepper and then add mussels. Cook with lid on until mussels open up, which should be between 5 and 10 minutes. Do not attempt to eat any mussels that do not open.
Remove from heat and transfer to serving dish. Add remaining parsley and serve with crusty bread.