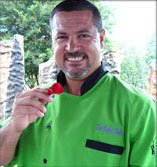 Chicken with Fines Herbs
4 Chicken Breasts
Salt and Pepper to taste
Flour
Pecan Oil
2 Tbsp Shallots, chopped finely
8 oz Dry White Wine
10 oz Chicken Stock
4 oz Heavy Cream
1 tbsp each, Parsley, Tarragon, and Chervil
Dry and season chicken with salt and pepper. Dredge in flour. Saute chicken in oil until chicken is just done and reserve. Add the shallots and cook until softened then deglaze pan with wine. Cook until almost dry and add stock and cream. Continue cooking until sauce is reduced to desired consistency and add herbs. Serve chicken with sauce spooned over the top.
Green Pozole
2 oz Pecan Oil
1/2 Onion, chopped 8oz Green Chili, chopped
2 tbsp Chopped Garlic
1/4 cup Mexican Oregano
3/4 lbs Pork, diced (Can substitute with dark meat chicken)
24 oz Chicken Stock
1 – Lime zested and Quartered
8oz can drained White Hominy
Salt and Pepper to taste
Cilantro to taste
Saute onions in oil for 3 minutes and then add chilies. Add garlic and oregano after 2 minutes and saute for another 2 minutes. Remove vegetables from pot and brown pork. Add vegetables, stock, and lime zest and juice. Cook for 2 hours at 325 degrees. Add hominy and cook additional hour. Season the stew with salt, pepper, and cilantro.