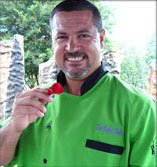 Caraway Thyme Chicken Sausage
4 Boneless Skinless Chicken Breasts, trimmed and cubed
½ Onion, chopped
2 tbsp. Breadcrumbs
2 tbsp. Caraway Thyme
1 tsp. Salt
1 tsp. Garlic Powder
1 tsp. Onion Powder
½ tsp. Crushed Red Pepper Flakes
¼ tsp. Nutmeg, freshly ground
Pulse chicken in a food processor 6 or more times until finely chopped. Add rest of ingredients to the bowl and chop for about 2 minutes or until combined thoroughly. Place into refrigerator to chill and combine flavors. Can be used as a pan sausage or put into casings at this point.
Guinness Stew with Caraway Thyme
2 tbsp. Pecan Oil
2 lbs. Beef Chuck Roast, trimmed and cubed into 1 inch dice
1 Onion, chopped
4 cloves Garlic, minced
5 Carrots, peeled and diced large
2 Parsnips, peeled and diced large
1 bottle Guinness, divided
2 tsp. Caraway Thyme leaves
¾ tsp. Salt
¾ tsp. Black Pepper
1 tbsp. Red Wine Vinegar
½ lb. Baby Bella Mushrooms, washed and cut into ¼ with stem removed
¾ cup Green Peas
2 tsp. Caraway Thyme
In a large pot, heat oil over medium high heat until smoking and add the beef in batches to brown. Remove the beef and reserve. When finished with the beef, reduce heat to medium and add the onion to the pan and cook for about 3 to 4 minutes scraping pan as you cook onions. When onions are softened, add garlic and cook additional 30 seconds then add 1 cup of the Guinness beer and continue scraping any bits that may have stuck to pan.
When the beer has reduced by half, add the beef and any juices to the pan. Also, add the carrots, parsnips, 2 tsp of Caraway Thyme, salt, pepper and rest of Guinness to the pan and bring to a boil then cover. Reduce heat to a simmer and cook for about 45 minutes to 1 hour or until beef is tender. Add the vinegar, mushrooms and peas to the pan, cover and cook for about 10 minutes. Remove cover and continue cooking to reduce sauce to desired consistency and add remaining Caraway Thyme to the pan. Correct seasonings if necessary with salt, pepper, and red wine vinegar.