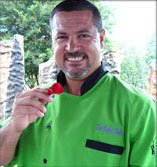 Rosemary Red Wine Steak Sauce
2 tbsp Oil
¼ cup Shallots, chopped
2 cloves Garlic, chopped
12 oz Red Wine
4 oz Heavy Cream
2 tbsp Blue Lady Rosemary, chopped
2 oz Blue Cheese
Salt and Pepper
In sauté pan, heat the oil over medium high heat and add shallots. Cook the shallots until clear and reduce heat to medium. Add garlic and the rosemary to the pan and cook for about 30 seconds. Then add the wine to the pan and reduce by half. Add the cream when reduced and heat to sauce consistency and turn off heat. Add the blue cheese to the pan and season with salt and pepper. Serve warm over steaks.
Rosemary Orange Cocktail
2 oz Vodka
2 oz Rosemary Simple Syrup
2 oz Orange Juice
1 tbsp Grenadine
Combine first 3 ingredients in a cocktail shaker with ice. Shake for about 20 seconds until cold. Pour into glass and add the grenadine.
Rosemary Simple Syrup
Makes about 1 cup
1 cup Water
½ cup Sugar
2 oz Fresh Rosemary
1 oz Lemon Juice
Combine first 3 ingredients and bring to a boil over medium heat. Remove from heat and let steep for 10 minutes. Strain out rosemary and add lemon juice. Store refrigerated until ready to use.