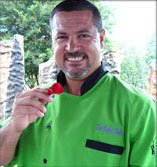 Bell Pepper Basil Infused Vodka
1 750 ml Bottle of Vodka
20 sprigs Bell Pepper Basil, fresh
Combine vodka and basil in a sealable container and store in a warm dry place making sure the basil is covered by the vodka or may turn black. Agitate the mixture 2 to 3 times a day for 3 to 4 days. Strain through cheesecloth into the bottle. Seal and store in freezer.
Sauteed Chicken with Bell Pepper Basil Cream Sauce
4 tbsp Butter
2 tbsp Oil
Flour
4 Chicken breasts, trimmed
1/2 Shallot, chopped
2 cloves Garlic, minced
1/4 cup White Wine
1 cup Chicken Stock
1/4 cup White Wine
1/2 cup Cream
2 tbsp Bell Pepper Basil, chopped
Salt and Pepper
In a large saute pan over medium high heat, melt butter with oil. Dust chicken with flour. When oil is hot, add chicken to pan and cook until browned on one side and turn. Reduce heat to medium and cook until chicken is cooked through. Remove chicken from pan and keep warm. Add shallot to pan and cook for about 2 minutes then add garlic and cook additional 30 seconds. Deglaze pan with wine and scrape up any brown bits from the chicken. When wine is almost gone, add chicken stock to pan and reduce by half. When stock has reduced, add cream and basil to pan and cook until reduced by 1/3. Season the sauce with salt and pepper when done. Add chicken and juices to pan to coat and reheat. Place onto plate the chicken with about 2 tbsp of sauce.