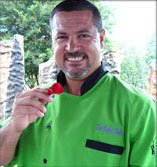 Savory Bean and Mushroom Terrine
1 lb. Pinto Beans, soaked
64 oz Chicken Stock
6 oz Bacon, cooked and chopped
8 oz Onion, diced
2 tbsp Garlic, chopped
2 each Celery ribs
8 oz Tomato, seeded and diced
4 each Bay Leaf
1½ tbsp Savory
2 tbsp Butter
8 oz Mushrooms, sliced
1 oz Gelatin Powder
Pick and wash beans and place into a pot and add the chicken stock and bacon. Bring to a boil and reduce to a simmer and cook for 3 hours. Sweat onion, and garlic and add to the beans. When combined, add the tomato, bay leaf, savory and salt and pepper. Simmer additional 30 minutes and cool. Chill beans overnight in the refrigerator. To assemble the terrine, drain beans and add the gelatin to 1 cup of the bean stock. Heat the stock to melt the gelatin and cool. Sauté the mushrooms in the butter until mushrooms have darker color and butter is evaporated. Add the mushrooms and bean stock to the beans and pour into a plastic wrap lined terrine mold and chill overnight. Slice and serve the next day.
Red Cabbage and Pork Pot
1 large red cabbage, cored and shredded
2 pounds Pork Ribs, country
8 cloves Garlic, whole
2 tbsp Pecan oil
1 Onion, chopped
1 Tomato, diced
1 Granny Smith apple, cored and diced
1 cup Celery, diced
5 Bay leaves
1 tbsp Cider vinegar
1 teaspoon sugar
Salt and pepper, to taste
Blanch the cabbage in boiling water for about 1 minute. Remove and reserve. Insert 2 whole cloves into each of the ribs. Place the pecan oil in a heavy pot over medium heat; brown the ribs, about 6 minutes per side. Remove ribs to a plate. Reduce heat to low; add the onion and cook, stirring occasionally, about 3 minutes. Return ribs to the pot. Add reserved cabbage, tomato, apple, celery, bay leaves, vinegar, sugar, salt and pepper. Cook the mixture, partially covered, over medium heat for 15 minutes. Uncover and cook over medium-low heat, stirring occasionally, until meat is tender, about 1 to 1 1/2 hours more, making sure the meat does not stick to the bottom of the pot and the cabbage covers the meat. Remove bones and serve immediately.