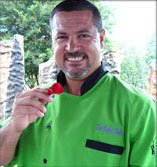 Corn Custard with Basil
¾ cup Evaporated Skimmed Milk
2 tbsp Basil, chopped
½ tsp Salt
1/8 tsp Pepper
16 oz Frozen Whole Kernel Corn, thawed
15 oz No-Salt Cream Corn
2 large Eggs, beaten
2 large Egg whites
Cooking Spray
Fresh Basil, chiffonade
Preheat oven to 325 degrees. Combine all ingredients in a large bowl and mix well. Spoon into 8 in. square baking dish coated with cooking spray. Place baking dish into larger pan and add hot water up sides by 1 inch. Place into oven and bake for 1 hour and 15 minutes or until knife comes out clean inserted into center of custard. Remove when finished cooking and remove from water. Rest the custard for 15 minutes. Serve warm. Garnish with fresh basil.
Sundried Tomato Dip
3 oz Sundried Tomatoes, dried
1/3 cup fresh Basil, chopped
2 tbsp Balsamic Vinegar
2 tbsp Tomato paste
1 tbsp Olive Oil
15 oz can White beans, washed and drained
Salt and Pepper to taste
Basil and Sundried tomatoes for garnish
In a small bowl, combine 1 cup boiling water and sundried tomatoes. Let tomatoes rehydrate for about 15 minutes. Drain the tomatoes but reserve ½ cup of the soaking liquid. Combine rest of ingredients but the olive oil in a food processor and pulse till smooth. Season the dip with salt and pepper. Spoon the dip into serving dish and stir in the olive oil. Garnish with basil and sundried tomatoes. Serve with chips or crackers.