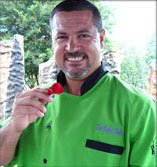 Bell Pepper Infused Vodka
1 bottle of vodka
20 Sprigs fresh Bell Pepper Basil
Combine vodka and basil in a sealable container and store in a warm, dry place. Agitate the mixture 2 or 3 times a day for 3 to 4 days. Strain through a coffee filter into a bottle, seal and store in your freezer.
Cinnamon Basil Ice Cream
2 cups Whole Milk
3 Tbsp Cinnamon Basil
1/2 cup Sugar
4 Egg Yolks
1/2 cup Heavy Cream
Bring Milk, Basil, 1/4 cup Sugar, and pinch of salt to a boil and remove from heat. Steep for 30 minutes and process in blender until finely chopped. Beat the yolks and 1/4 cup sugar until thick and pale. Add milk in stream to the yolk mixture and cook over moderate heat until the mixture coats back of spoon. Strain through fine sieve and cool until below 40 degrees. Transfer into ice cream maker and mix according to manufacturers directions. Harden in freezer for at least 2 hours.