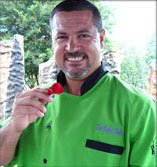 Lemon Basil Crab Salad
3 tbsp Lemon Juice
� cup Basil, chopped
� cup Mayonnaise
1 lb. Crab Meat, cartilage removed
1 cup Cucumbers, peeled and diced
2 Roma tomatoes, seeded and chopped
� Shallot, diced finely
� tsp Salt
� tsp Black Pepper
Combine lemon juice, basil and mayonnaise in a small container and season with salt and pepper. In a large bowl, combine crab, cucumber, tomatoes, and shallot and toss gently so as not to break up the crab. Combine with the dressing and refrigerate until ready to serve. Garnish with ribbons of basil
Frozen Basil Strawberry Mousse
2 tablespoons roughly chopped fresh basil
1/4 cup sugar plus 1/3 cup
3 cups quartered strawberries
1 1/4 cups heavy cream
1 tablespoon fresh lemon juice
1 (1/4-ounce) envelope unflavored gelatin, or 1 tablespoon unflavored gelatin
1/3 cup sliced strawberries, for garnish
1 tablespoon chiffonade of fresh basil, for garnish
Process the basil and the 1/2 cup sugar in a blender or small food processor and pulse until combined, stopping to scrape down the sides as needed. Place quartered strawberries in a medium bowl and sprinkle with the basil sugar. Allow the mixture to stand for 20 minutes.
Cut parchment paper into 5 long strips, about 2-inches wide and 12-inches long. Wrap one strip of parchment around the top of a 3-ounce ramekin and secure with string or tape to form a collar that extends above the top of the ramekin. Repeat with the remaining 4 strips and ramekins. Set aside.
Whip the heavy cream until soft peaks form and refrigerate until ready to use.
Combine the lemon juice with 3 tablespoons of water and the gelatin in a small bowl. Allow gelatin to soften, about 5 minutes. Place the macerated berries and sugar in a blender or food processor and puree until smooth. Pour mixture through a fine-mesh strainer and press to release the juices; you will need about 1 1/4 cups of the strained juice. Discard the pulp and seeds.
In a small, heavy saucepan, combine 1/4 cup of the strawberry puree and the 1/3 cup sugar over medium heat, stirring to dissolve the sugar. Just before the mixture begins to boil, remove the syrup from the heat and stir in the gelatin mixture until well incorporated and dissolved.
Combine the gelatin mixture with the remaining strawberry puree in a medium bowl. Set the medium bowl inside a large bowl filled with ice water. Stir the strawberry mixture until cooled and syrupy.
Fold the reserved whipped cream into the syrup mixture, gently but thoroughly, until well incorporated and the mixture is one solid color. Fill the prepared molds with the strawberry mousse, cover, and freeze until firm, at least 4 hours.
Allow mousse to stand at room temperature for about 10 minutes before serving. Remove the parchment paper from the molds and garnish with fresh sliced strawberries and basil.