Arbor Gate's Picks of the Month
BASIL, MINT, AND ORANGE VINAIGRETTE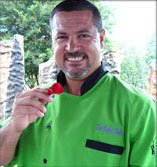 1/2 cup packed fresh Basil leaves
1/2 cup packed fresh Madeline Hill Double Mint leaves
1/4 teaspoon freshly grated orange zest
1 tablespoon fresh orange juice
2 teaspoons white-wine vinegar, or to taste
1 garlic clove, chopped
1 tbsp Dijon Mustard
1/2 cup Extra Virgin Olive oil
In a blender blend together all ingredients but Olive Oil. With blender on, slowly add oil until vinaigrette is emulsified.
Grilled Pears with Minted Mascarpone
4 Pears, halved
8 oz Mascarpone
4 Springs Madeline Hill Double Mint
1 tbsp Lemon juice
Combine cheese, mint and lemon juice.
Grill pears over hot grill brushed with Oil.
Serve with cheese.