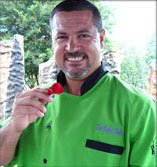 Bell Pepper Basil Gremolata
6 tbsp Bell Pepper Basil
6 Green Onions, minced
3 Garlic cloves, minced
¼ tsp Crushed Pepper flakes
2 tbsp Lemon juice, fresh
2 tbsp Pecan Oil
Salt and Pepper to taste
Combine all ingredients in small bowl. Season the sauce with salt and pepper. Serve over steak, pasta, or into soup.
Bell Pepper Basil Cocktail
12 Bell Pepper Basil leaves plus garnish
1 tsp Sugar, extra fine
1½ oz Gin
2 oz Lemon Lime Soda
In a cocktail shaker, combine sugar and 12 basil leaves. Muddle completely then add gin and fill with ice. Shake until cold. Strain into glass and top with soda. Garnish with reserved leaf.