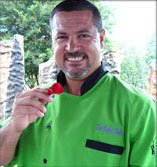 Lemon Verbena Ice Cream
2 cups Heavy Cream
2 cups Whole Milk
1 cup sugar
1/2 cup Lemon Verbena leaves, fresh
1 Vanilla Bean
14 Egg Yolks
Heat cream, milk, 1/2 cup sugar, lemon verbena leaves, and vanilla bean just to a boil and remove from heat. Making sure all sugar is dissolved, cover mixture and steep for about 2 hours. In a large bowl, whisk egg yolks with the remaining sugar. Return the steeped mixture to a boil, then strain. Add 1 cup of the hot mixture to the eggs and whisk so as not to curdle the eggs. Continue whisking while adding 1 more cup of the hot mixture to the eggs then add the eggs to the cream. Stir over medium low heat until the mixture thickens to coat the back of a spoon. Turn off heat and transfer to another bowl. Chill at least two hours or until ready to mix in ice cream maker. Place into the ice cream maker and churn the cream according to directions by maker. Cover and freeze for up to 3 days.
Barbecued Shrimp with Thyme
2 cups butter, melted
2 cups Pecan oil
3/4 cup Worcestershire sauce
4 tbsp Black pepper
1/2 tsp Cayenne, pepper
1/2 tsp Hot Pepper Sauce
1 tbsp Thyme, fresh
3 cloves Garlic, minced
1 tsp Paprika, smoked
4 tsp Salt
8 lbs Shrimp, peeled and deveined
Preheat oven to 450 degrees.
Heat all ingredients except shrimp in a large saucepan to a simmer and cook for about 7 minutes. Add shrimp to the saucepan making sure there is enough room to stir without breaking shrimp. Cook the shrimp for about 10 minutes or until the shrimp begin to turn pink. At this point, remove the shrimp and place into large baking dish and cover with sauce. Place into preheated oven and cook for another 10 minutes, stirring only once.