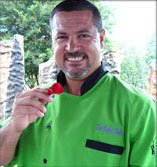 Basil Meringues with Peaches
1 large Egg white
1/8 tsp Cream of Tartar
Dash of Salt
¼ cup Powdered Sugar
2 tsp Basil, chopped finely
¼ tsp Vanilla
½ cup Sliced Peaches
½ tsp Sugar
Preheat oven to 250 degrees. Cover a baking sheet with parchment paper and draw two 10 inch circles on the paper.
Beat egg white, cream of tartar, and salt on high speed with mixer until foamy. Slowly add the powdered sugar to the bowl of the mixer 1 tbsp. at a time. Continue beating the mixture until stiff peaks form. Fold in the vanilla and basil. Pipe the mixture onto the circles. When finished, use the back of a spoon and push down to form a nest into the meringue. Bake for 1 to 1 ½ hours or until dry. Turn off the oven when finished and let the nests finish baking in closed oven for about 3 hours. Remove from oven and slowly remove meringues from the parchment paper. While the meringues are cooking, combine the peaches and sugar and let sit for about 30 minutes. Spoon the peaches onto the meringues and serve.
Roasted Tomatillo Sauce
3 Green Tomatoes, halved
4 Tomatillos, quartered
2 Jalapenos, seeded if necessary
3 Garlic cloves
3 Avocados
6 sprigs of Cilantro
1 tsp Salt
½ cup Sour Cream
Preheat oven to 400 degrees. On a baking sheet lined with foil, place the tomatoes, tomatillos, jalapenos, and garlic and spray lightly with oil. Place into oven and roast for about 20 to 25 minutes or until slightly charred. Remove from oven and place into blender or food processer and pulse until combined. Add the avocado, cilantro, and salt to the blender and process until smooth. Remove from blender and stir in the sour cream. Refrigerate until chilled and serve with chips.