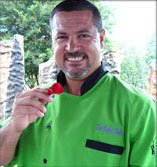 Rosemary Roasted Root Vegetables
Nonstick vegetable oil spray
2 pounds Rutabagas, peeled, cut into 1-inch pieces
2 pounds Carrots, cut into 1 inch pieces
1 pound Potatoes, large dice (1/2 x 1/2)
2 onions, cut into 1-inch pieces
2 leeks (white and pale green parts only), cut into 1-inch-thick rounds
2 tablespoons chopped fresh Arp Rosemary
1/2 cup olive oil
10 garlic cloves, peeled
Position 1 rack in bottom third of oven and 1 rack in center of oven and preheat to 400ºF. Spray 2 heavy large baking sheets with nonstick spray. Combine all remaining ingredients except garlic in very large bowl; toss to coat. Season the rutabagas generously with salt and pepper. Divide vegetable mixture between prepared sheets. Roast 30 minutes, stirring occasionally. Reverse positions of baking sheets. Add 5 garlic cloves to each baking sheet. Continue to roast until rutabagas are tender and turning brown, stirring and turning vegetables occasionally, about 45 minutes longer. Let stand on baking sheets at room temperature. Transfer roasted vegetables to large bowl and then serve.
Fig, Rosemary, and Blue Cheese Mousse
3 ½ cups Blue Cheese
3 cups Sour Cream
8 oz. Cream Cheese
4 Figs
3 tbsp Rosemary, chopped
1 tbsp Lemon juice
Process all ingredients in a food processor until smooth. Add more lemon juice if too thick.