Be Creative!
No garden is complete without art! Our unique and constantly evolving collection of eccentric and charming handmade items from artisans around the world, including Texas artists and local craftsman, enhance any setting and challenge one's own creativity as well.
Artisan-crafted pottery is hard to find these days, with gas-fired kilns and machinery manufacturing mass-produced pottery where every piece is the same. Much of the Arbor Gate collection of garden pottery exhibits the richness of hand-crafted wares we associate with earlier times.
The work of many artisans in our collection can be seen nowhere else in the Houston area. The amazing one-of-a-kind welded iron dragonflies, trees, and fences by Charlie Strack; the copper Spiritiles of Houston Llew; the charming glass assemblages by Tomball's own Char; the whimsical armadillos and crocodiles crafted from recycled metal by Mexican artisans–examples too numerous to name. Be sure to peruse the incredible Jersey Island pottery with horticultural designs by renowned British artist Ann Swann, and the fine-art quality fish designs by Richard Bramble.
Our constantly evolving collection includes much work that approaches folk art because of its hand-crafted quality, originality, and imaginative use of found materials. Many pieces have been designed by Arbor Gate staff members or commissioned especially for us. And all with the ability to delight and enrich your living spaces, indoor and out.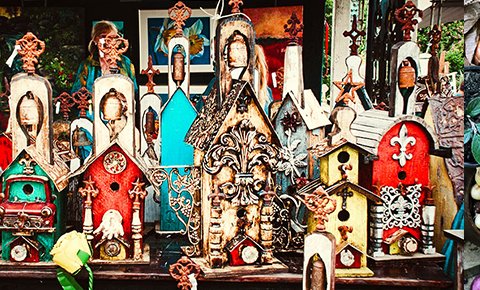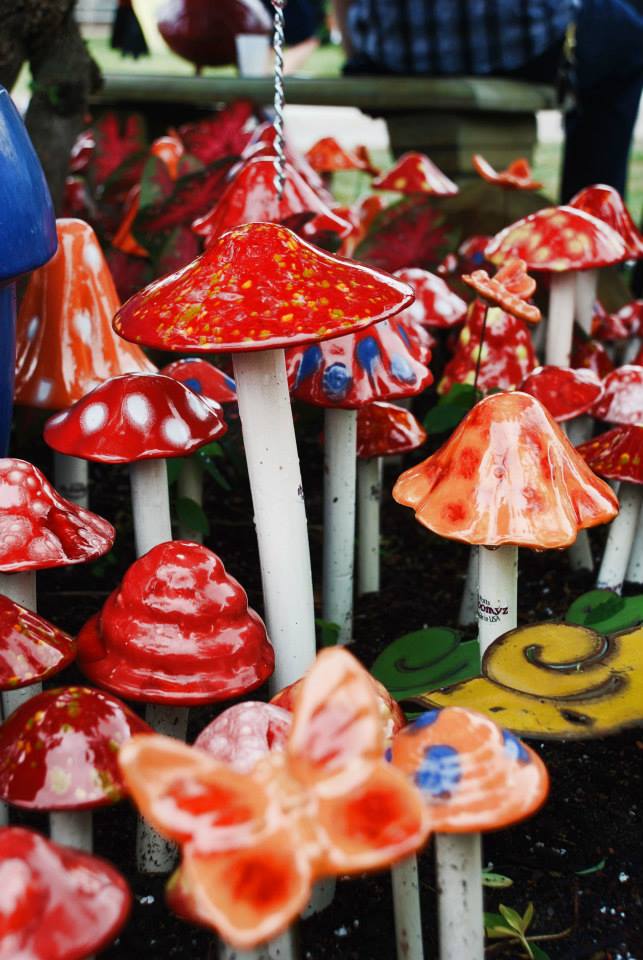 Walk Lightly Upon the Earth
Our original shop, entered as soon as you pass through our signature arbor, carries anything and everything for the discerning gardener. Here you'll find fertilizers, soil amendments, lawn products, garden hats, gloves, and gardening books.
And because of our customers' high interest in earth-friendly gardening, we've continually expanded our extensive collection of organic products. Now, with the introduction of our own microbe-rich fertilizer, Arbor Gate Blend, and with our many books on organic gardening methods, we can provide both the products and the information you need to "walk lightly upon the earth."
The Hospitable Home (The Arbor Gate too!)
A short stroll through our gardens brings you to The Arbor Gate too!, a treasure trove of amenities for enhancing the hospitable home. This delightful 1930's frame house, discovered in the Houston Heights and moved to The Arbor Gate in the late 1990's, is surrounded on all sides by stunning display gardens. The house, beautifully renovated, provides a unique environment that's sure to stimulate your creativity and imagination.
The first thing you'll notice upon entering is the enormous and fascinating variety. Charming displays showcase an amazing array of artisanal decorative items, home accessories, original art, lamps, occasional furniture, and ever-changing seasonal decor.
Unique tableware and gourmet foods are displayed in the charming old house's former kitchen.
Whether you're looking for that special decorator's touch, an unforgettable gift, or a wonderful treat for yourself, you'll be delighted with our collection for the hospitable home.
The Seasons
Throughout the year we can help you greet each season with creativity and joy, in your home as you decorate and prepare to entertain, and in your garden as well.
For example, our holiday season begins with decorating ideas and materials for Halloween, and we never stop until January arrives! Following the jack-o-lanterns, come the turkeys, and onward to the Christmas trees! (And don't forget Easter!) A number of our classes and Arbor Gate events are tied into the current season's theme.
So are you interested in an outdoor display to greet your guests, a table setting for a dinner party or reception, or a turkey or Christmas tree with every conceivable trimming? Our holiday collections are sure to provide you with the inspiration, the information, and the materials you need to create your personal holiday-land!