Nancy 
Greig
,
Cockrell 
Butterfly 
Center
Butterflies, moths, flies, bees, hummingbirds and more!  Invite all these creatures into your garden by choosing their favorite plants. Nancy Greig, founding director of the Cockrell Butterfly Center, will help you create a haven for pollinators in your own backyard.  

MGCEU: Fort Bend, Galveston, Orange, and Waller Counties

About the Instructor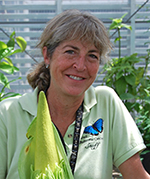 Nancy Greig grew up in Alberta, Canada – a land of long, cold winters and short, relatively cool summers. This was not the ideal place for someone who loves insects and gardening! So she moved south as soon as she could – spending almost two years in Mexico, getting a PhD in tropical plant ecology at UT Austin, and then teaching field courses for a couple of years in Costa Rica. She has been director of the Cockrell Butterfly Center in Houston since 1994. In addition to her work at the museum she helps kids learn about vegetable gardening and keeps bees.