Ann 
Wheeler
,
Log 
House 
Herbs
Nearly every garden includes a mixture of sunny and shady spots, some in the exact spot where we want to plant herbs, noted sun-lovers. Yet not all shady spots have too much shade for carefully selected herbs. So how to decide whether a spot is "too shady" without much loss to trial-and-error? Today's discussion will include not only placement of herbs in your garden, but also how to discover the mix of light and shade needed (or merely tolerated.) We'll start with the basics: how to evaluate the actual amount of shade in a given spot in the garden.
About the Instructor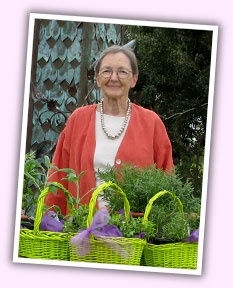 Ann Wheeler of Log House Herb Farm is consultant of fine culinary and ornamental herbs to The Arbor Gate.