Houston (and all of the rest of you as well), we have a problem…actually a number of them. As you probably know, I've given several thousand lectures across the state in my career. However, as a seventh-generation Texan and butterfly lover, I'm very surprised that so few gardeners know that the Texas state insect is the monarch butterfly. One even guessed it was the cockroach! The monarch butterfly was designated our Texas state insect in 1995, so get your head out of your chrysalis! So, problem number one involves recognition, reverence, and respect.
The majestic monarch is a beautiful black and orange butterfly found throughout the United States. But there are long-term concerns about its future. Although the U.S. Fish and Wildlife Service deems it a species worth listing as endangered, it currently offers no protections to the monarch in the U.S. However, the International Union for Conservation of Nature based in Switzerland listed it as an endangered species in 2022.
Texas is considered the most butterfly-diverse state in our country. So why would we choose the monarch instead of the one of our other 400-plus native beauties? The answer lies in geography. Texas is truly the gatekeeper for this migratory butterfly as we hold the flyway key both coming and going.
As far as I know, the miracle monarch is our only migratory butterfly. And in my opinion, "miracle" is an understatement. I'm sure you've heard all this before but let's briefly cover the monarch's migratory lifecycle. This annual migration presents all the other problems.
Let's start in Mexico where the monarchs arrive around the Day of the Dead each fall to spend the winters in the dwindling oyamel fir forests west of Mexico City. Here, all the monarchs hailing from east of the Rockies (from as far north as Canada) survive erratic Mexican winters and illegal logging to begin their spring journey into Texas.
As the season unfolds, these now nine-month-old butterflies breed and lay eggs on assorted milkweed (Asclepias sp.) throughout Texas before dying. The caterpillars eat nothing but milkweed as they shed their skins four times before becoming chrysalids and morphing into monarch butterflies. Each new generation lives about a month as it heads north nectaring on assorted flowers, breeding, and laying several hundred eggs on more milkweeds. After three to five generations the true miracle begins when these butterflies that have never seen the forests of Mexico begin their thousands of miles journey back to the fir trees.
Think about it. Small insects with papery wings, less than four inches wide, weighing less than one-fifth an ounce fly all the way from the northern U.S. and Canada to the exact same trees where their grandparents, great-grandparents, or great-great grandparents spent the previous winter! That means battling wind, rain, pesticides, automobiles, and predators like birds, lizards, spiders, and "house" cats to fly across an entire country to an exact location that they've never seen. That includes stopping every time it's too hot, too cold, too wet, or too windy.
Amazingly enough, this incredible migratory puzzle was only figured out in 1975. Sadly, monarch populations have declined by some 80-90 percent over the last few decades. This has led to speculation that the shrinking overwintering forests, the lack of milkweed plants, the dearth of pollinator plants, or some combination of the three is to blame.
I can't speak for Mexican fir trees, but I do see a plethora of spring milkweeds on Texas roadsides and in cattle pastures. What I do not see is flowering plants during the fall migration. Disastrously, the perfect storm occurs in Texas each year during the fall migration. 1. Texas highway roadsides are mowed for the second time doing away with the last visible strips of wildflower diversity we have. 2. Utility rights of ways are mowed during their annual cleanup. 3. Pastures are mowed to keep them in grasses instead of woody vegetation. 4. Hay meadows are cut for their final harvest. Folks this is devastatingly bad timing. I commute an hour and a half each way daily and watched the only meadow full of flowers in three counties mowed during fall migration leaving only a few home garden flowers here and there. Some areas, including Rusk County that I drive through, have even started spraying non-selective glyphosate herbicide during the summer eliminating all forbs and flowers. Just imagine how many fall flowers there used to be during the thousands of years before humans arrived. Is it any wonder that all pollinators are in steep decline? Is there any hope? What can we do?
Here are some realistic solutions if we can only get contractors, farmers, gardeners, land managers, ranchers, and politicians to take note. First and foremost, DO NOT MOW any roadside, meadow, pasture, vacant lot, or right of way until after the first freeze (the month of November, hence NO mow). DO NOT MOW them in October! Since the days are getting shorter and the temperatures cooler in November, this will have little effect on roadside safety and almost no effect on pasture/right-of-way management other than postponing things for one month. In addition to providing crucial nectar to migrating monarchs and other butterflies, this will also provide pollen and nectar to many bees gearing up for winter, not to mention migrating hummingbirds.
And as gardeners, we need to plant LOTS more fall blooming flowers including easy-to-grow, long-lived perennials such as cigar plant, fall aster, Mexican bush sage, Mexican mint marigold, swamp sunflower, Turk's cap, and perennial mums like 'Country Girl.'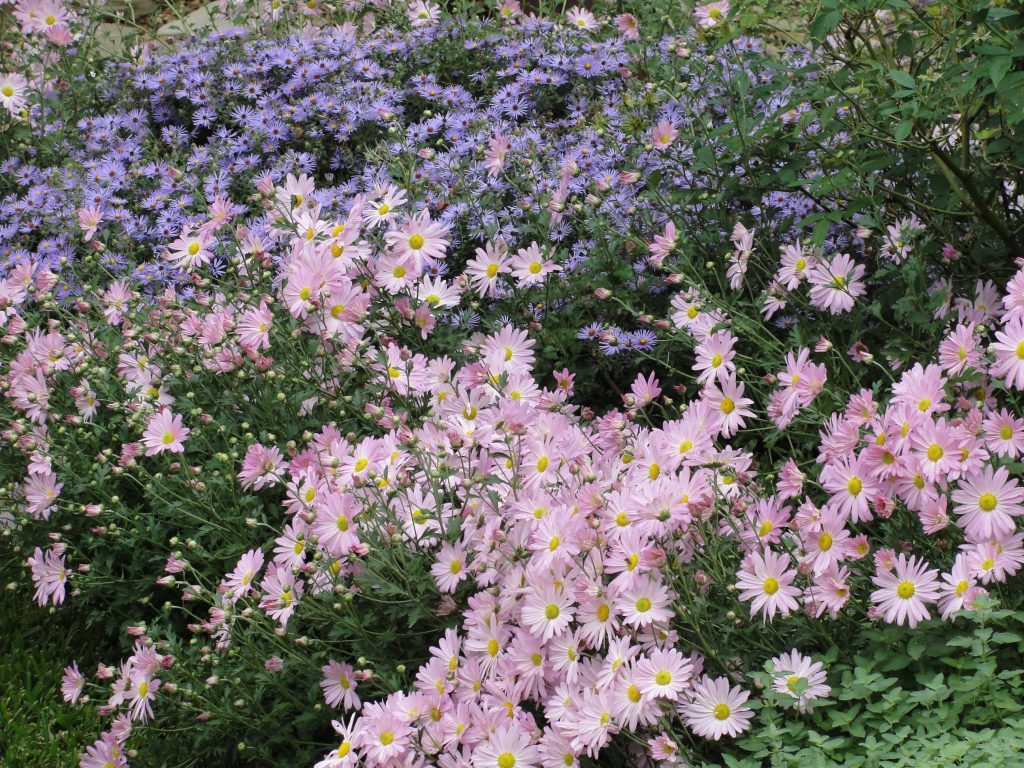 I know everybody likes to clean up for fall but always remember this. Nature isn't always neat, but it is always natural. Butterflies, bees, birds, bats, bobcats, and buffalo don't live in lawns, hay meadows, or pine plantations. They need every plant, plot, and petal that nature provided. Monarch butterflies can't exist without Mexico, milkweeds, flowers, and Texas. We can do this. Monarchs were made for flight. Texans were made to fight. Save the monarchy!